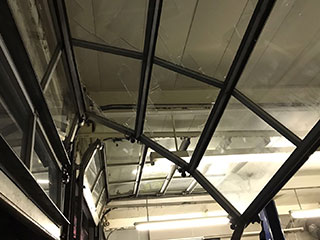 We are your leading source of high-quality garage door repairs, installations, and replacements across Walnut Creek. As a reputable service provider, we always strive to maintain the high standards of our business by treating each of our clients with the utmost respect and service excellence. In addition, we hold an extensive inventory of superb products coming from the top manufacturers across the country, so that you can rest assured that your system will be operational for years to come. Here's what we can do for you.
Spring Replacement & Installation
Have a broken spring? Whether it's torsion or extension springs that are doing the heavy lifting in your mechanism, we've got what it takes to safely remove the broken components and replace them with high-grade steel springs, which will complete more cycles than our competition. It's extremely important that you don't attempt to replace your springs on your own, especially if you don't know what you're doing. These heavy-duty parts are under massive tension and can come flying off in any direction at great speed if not handled with knowledge and care.
Opener Repairs & Installations
Most often, when your garage door isn't working as it should, it can be repaired. We'll do our best to repair your motor before replacing it, but in certain cases, there is no way around removing it and installing a new unit. Our technicians keep a range of spare parts at hand in our trucks so that they can resolve the issue in a single visit.
New Garage Door Installations
When it's time for your old door to go, we've got you covered. We stock only the best models in a wide variety of styles, material, colors and everything in between. From hauling away your old unit to installation of the new one and the final tune-up, we'll be with you every step of the way. Even in the unlikely situation that we don't have the exact model you're after, we'll be happy to source it for you. We'll carefully inspect the mechanism before leaving, ensuring all moving parts are working as they should and are perfectly adjusted.
Your Best Bet
Turn to us with confidence when it comes to garage door problems of any kind. Schedule an appointment today and get your door back on track!
You can also count on us for:

Broken Garage Door Track Repair

Part Replacement & Lubrication

Screw Drive Opener Replacement

Galvanized Torsion Spring Installation